Har du någongång gjort något som du är riktigt missnöjd med? Och som du egentligen vill kasta? Det har jag. Som när jag gjorde ett Gelprint med hot glue stamps i #BirgitKoopsenGelPrintingChallenge, det blev verkligen inte bra. Men man kan rädda en misslyckad bakgrund genom att ösa på med mera lager och dekorationer som förvillar. Det gjorde jag på min FaceBookLive den 8 maj och då blev det så här. (Fotot har jag gjort med appen Reface)
Jag gjorde också en tag på min live. Allt är dekorerat med papper och fuzzycutting från Echo Parks New Day.
Om du missade min LIVE så hittar du den —> HÄR <—
Blev du inspirerad? Glöm inte att dela och tagga #ciliinpapers och #cilipysslatillsammans så att vi kan inspirera varandra <3 <3 <3
**********************
Have you ever made some art that you really do not like? I have! Like this time when I made a gel print with a hot glue stamp for #BirgitKoopsenGelPrintingChallenge and it just looked boring. Well, you can always save a failed background by adding more layers and use decorations to trick the eye.
I also made a tag . I used New Day from Echo Park Paper on both.  If you didn't see the Live you can still see it —> HERE <—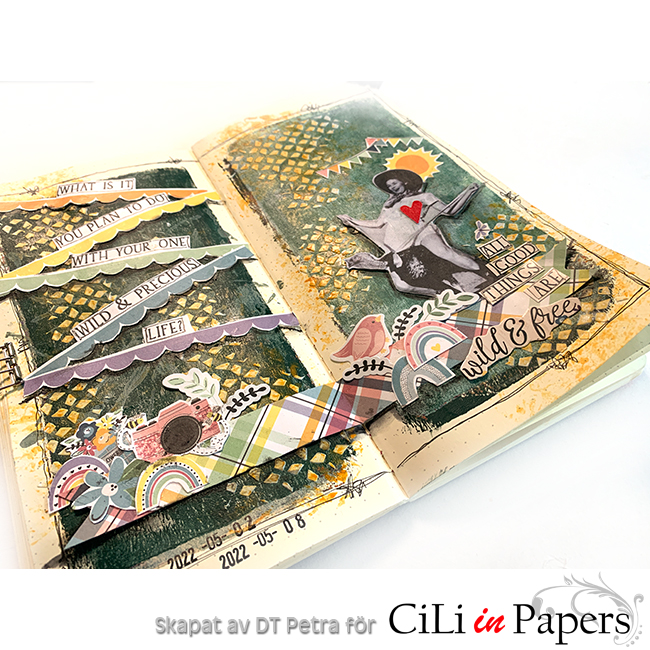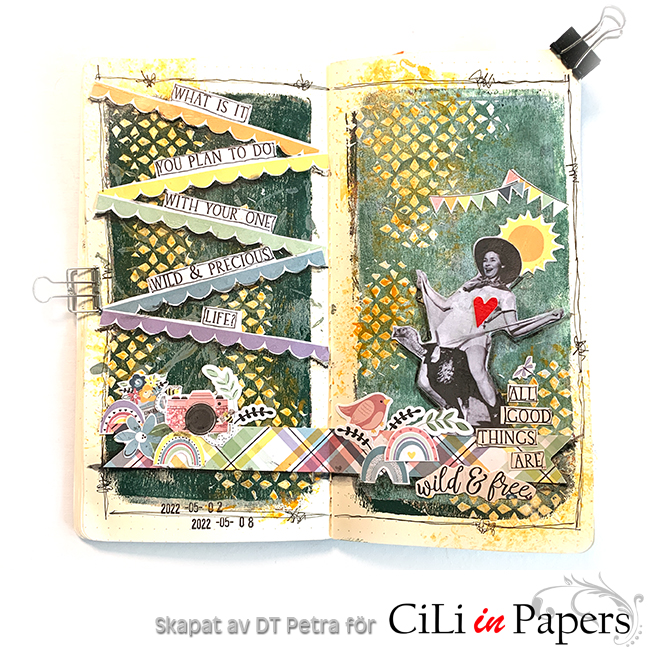 Material:
Tonic Studios Essentials Easy Clean Mat 1514E.
Dylusions Dyalog Insert Book – Dots #2.
Lawn Fawn Stencil Paste 59ml – White.
Echo Park – New Day.
Echo Park Collection Kit 12X12 – New Day.
Echo Park Cardstock Stickers 12X12 – New Day.
Stix2 Jumbo Roll of Double Sided Foam Tape 15mmx3mmx20meter – White.
Ranger Multi Medium 113ml – Matte.
Vicki Boutin Fernwood Stencils 3/Pkg – Bountiful.
Sizzix Making Tool Scissors – Small.
Dina Wakley MEdia Acrylic Paint 29ml – Cheddar.
Dina Wakley MEdia Acrylic Paint 29ml – Sage.
Dina Wakley MEdia Acrylic Paint 29ml – Fir.
Dina Wakley MEdia Acrylic Paint 29ml – Sand.
Dina Wakley MEdia Pouring Medium 236ml.
Tim Holtz Cling Stamps 7X8.5 – Floral Outlines.
Dina Wakley MEdia Stencils + Masks 6X9 – Things That Grow.
Dina Wakley MEdia White Tags 50/Pkg – #10.
Dina Wakley MEdia Scribble Sticks 12/Pkg – Set 2.
Tonic Studios Nuvo Watercolor Pencils 12/Pkg – Elementary Midtones …
Ranger Gel Plate Assortment 3/Pkg.
Tim Holtz Distress Brayer 3 5/16inch – Medium.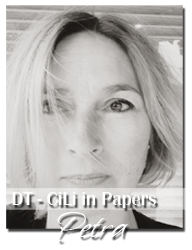 #scrapbooking #CiLiinPAPERS #MittKreativaKaos #PaperCraft #creative #inspiring #crafting #Ranger_ink  #Cilipysslatillsamans #DinaWakleyMedia #TimHoltz #LIVE #FaceBookLIVE #LIVEtutorial #EchoPark #EchoParkNewDay #Slimline #Tag#TonicStudios  #Dylusions #Dyary #DinaWakleyMedia #ARtJournal #ArtJournaling #BirgitKoopsenGelPrintingChallenge #Gelliarts #Gelprint #Gelprinting