Har ni sett de söta fåglarna som Tim Holtz har designat för Sizzix? OMG alltså! Jag hade just gjort en massa gelprints och jag stansade ut fåglarna från papperna som jag använt för att göra rent min brayer. Visst blev det snyggt! Fåglarna fick sitta på en "gren" av en bit bokblad från ett gammalt lexikon och bakgrunden har jag skapat med ett gäng distress oxider och lite stämplar. För att få fåglarna att poppa upp så ritade jag längs konturerna. Till sist stämplade jag texter från en Altenewstämpel.
Jag har också gjort ett kort och 4 andra ATC med min absoluta favorit stencil just nu (Tim Holtz Mosaic), distresser och stänk med Gloss Spray från Dina Wakley Media. Stämplarna är också favoriter, från Dina Wakley och från hÄnglar&Wings. Bladen på ATCkorten har jag färglagt med Scribble sticks.
Blev du inspirerad? Glöm inte att dela och tagga #ciliinpapers och #cilipysslatillsammans så att vi kan inspirera varandra <3 <3 <3
********
Have you seen the super cute birds that Tim Holtz designed for Sizzix? OMG they are so so cute.  I hade just finished some gel print and from the waste paper I used for cleaning my brayer I die cut the birds. Love how they turned out. I made a branch using some dictionary paper and the background is made using distress ink and some stamps. To make the birds pop I used a fine line pen to trace the outlines. I also added some texts using a stamp from Altenew.
I also made one card an four more ATCs using my current favorite stencil (Tim Holtz Mosaic), distress ink and some gloss spray splatters. The stamps from Dina Wakley Media and hAnglar&Wings are also favorites of mine. I colored the leaves using scribble sticks.
Did I inspire you? Inspire me right back by using the #ciliinpapers and #cilipysslatillsammans <3 <3 <3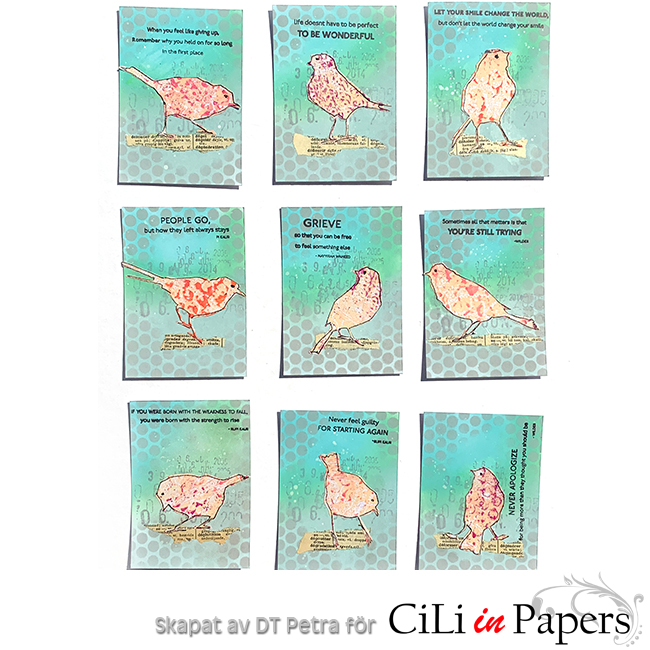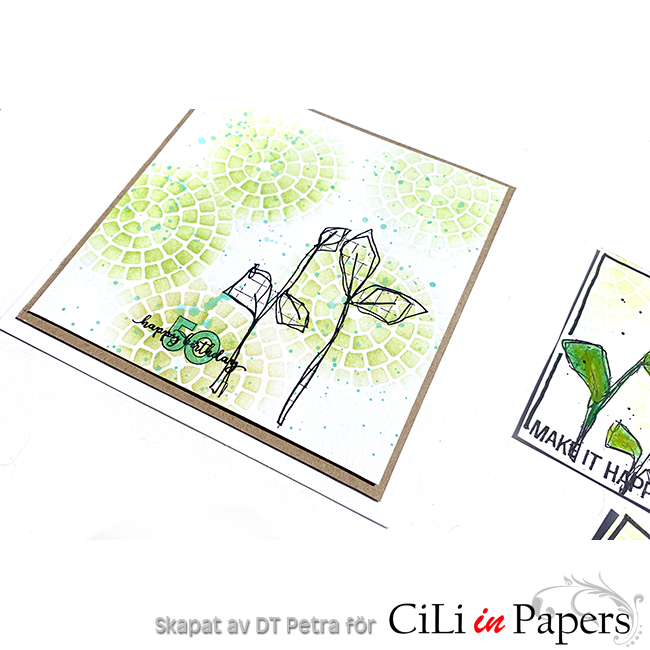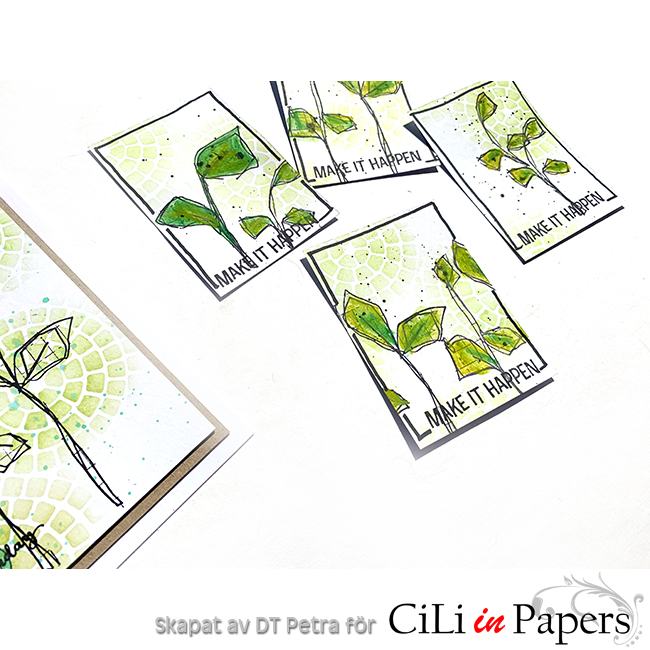 Material:
Tim Holtz Sizzix Thinlits Dies – Silhouette Birds.
Tim Holtz Cling Stamps 7X8.5 – Ultimate Grunge.
Tim Holtz Distress Oxide Ink Pad – Salvaged Patina.
Tim Holtz Distress Oxide Ink Pad – Hickory Smoke.
Tim Holtz Distress Oxide Ink Pad – Speckled Egg.
Tim Holtz Distress Oxide Ink Pad – Cracked Pistachio.
Dina Wakley MEdia Gloss Spray 56ml – White.
Altenew Clear Stamps 6X8 – Inspirational Quotes.
Tim Holtz Layered Stencil 4.125X8.5 – Mosaic.
hÄnglar & Wings Clear Stamps – Siffror Fyllda + Kontur A7.
hÄnglar & Wings Clear Stamps – Stora Siffror.
Crafters Companion White Stamping Card 60/Pkg A4.
Ranger Multi Medium 113ml – Matte.
Sizzix Making Tool Scissors – Small.
Dina Wakley MEdia Cling Stamps 6X9 – Be Obsessed.
Tonic Studios Craft Perfect A4 – Brown Craft Card 9558E.
Dina Wakley MEdia Gloss Spray 56ml – Medieval.
Ranger Gel Plate 9X11.
Dina Wakley Media Akrylfärg.
Dina Wakley MEdia Scribble Sticks 12/Pkg – Set 2.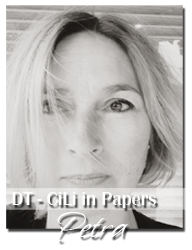 #scrapbooking #CiLiinPAPERS #MittKreativaKaos #PaperCraft #creative #inspiring #crafting #Ranger_ink  #Cilipysslatillsamans #TimHoltz #DinaWakleyMadia #Sizzix #ATC #ArtistTradingCard #ArtistTradingCards #TonicStudios #hAnglarWings #Altenew