Hello!
Har dekorerat en ask med massor av nya Moulds från Finnabair Prima. Har olika moulds lager på lager. Det är kugghjul, ramar, pärlrader i bakgrunden.  Mecha Moth och Amun & Bast Moulds är i fokus på toppen.
Färgat in med Liquid Acrylic Paint, och Finnabair wax Rich Copper.
Metal Flakes i färgen Copper för att ge extra metallisk effekt.
These new Moulds from Finnabair Prima in layers on this box. For colors I have used the Liquid Acrylic Paint with some wax Rich Copper. Metal flakes in the color Copper for extra metallic effect.
Check the full supply list down below.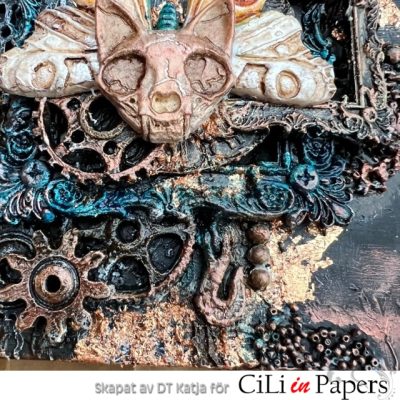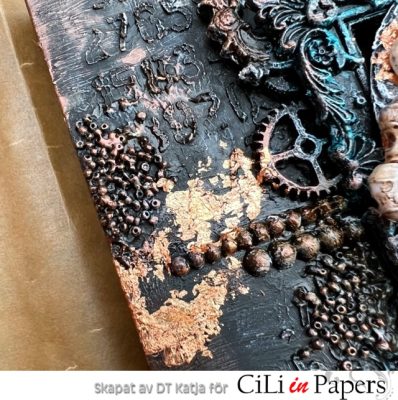 Material:
Finnabair Prima Black Heavy Gesso
Finnabair Prima White Heavy Gesso
Finnabair Prima Heavy Body Gel
Finnabair Liquid Acrylic Paint Burnt Sienna
Finnabair Liquid Acrylic Paint Turqoise
Finnabair Prima Art Extravagance Gliding Glue
Finnabair Prima Metallic Flakes Copper
Finnabair Prima Wax Rich Copper
Finnabair Prima Decor Mould Mecha Moth
Finnabair Prima Decor Mould Love Machine
Finnabair Prima Decor Mould Amun & Bast
Finnabair Prima Decor Mould Pieces of Underworld
Finnabair Prima Decor Mould Clock Faces
Finnabair Prima Decor Mould Baroque Frames