Att stämpla i brunt med distress ink är en favorit som jag ibland glömmer bort för att sedan återupptäcka. På de svagt manillafärgade sidorna i min Dylusions Art Journal blir det extra fint. Jag hittade en fin stencil från Tim Holtz – Tiles – som jag tidigare missat som är så läcker och den använde jag i en annan brun nyans. På en bit chipboard från Dina Wakley Media – Sprigs – sprayade jag Tim Holtz Distress Mica Spray för att få lite glittrigt på min sida. Med Backdrops-papper och några dekorationer från Tim Holtz och ett foto på mina älskade katter blev sidan helt klar.
Jag har också gjort en tag med samma material men där använde jag även Washi Tape från Simple Stories Simple Vintage Weathered Garden.
Om du missade min FacebookLIVE eller vill se den igen så hittar du den —> HÄR <—
**************
I have played with my Art Journal from Dylusions, some of the new Tim Holtz stamps, Distress mica sprays, distress mini inks, stencil, backdrops and decorations.  I recorded the process in a Facebook live. You can still see it  —> HERE <—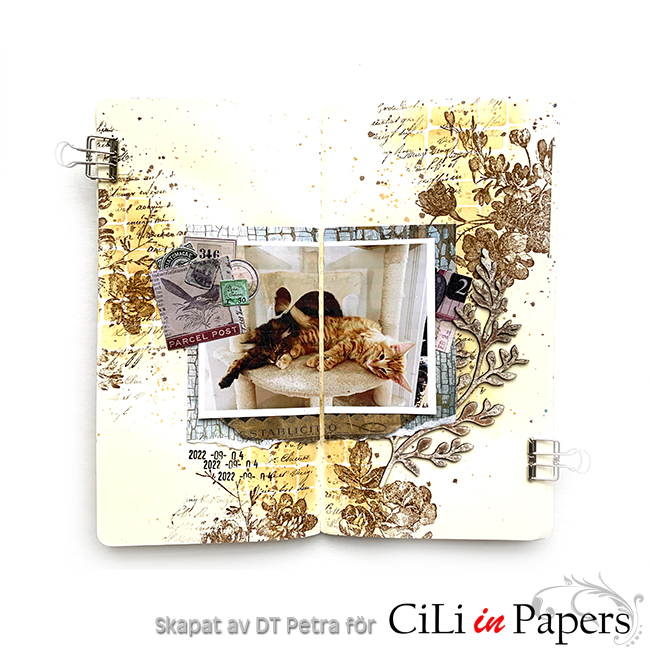 Blev du inspirerad? Glöm inte att dela och tagga #ciliinpapers och #cilipysslatillsammans så att vi kan inspirera varandra <3 <3 <3
Material:
Tim Holtz Layered Stencil 4.125X8.5 – Tiles.
Tim Holtz Idea-Ology Backdrops Cardstock 6X10 24/Pkg – Volume #2.
Dylusions Dyalog Insert Book – Dots #3.
Tim Holtz Idea-Ology Ephemera Snippets 233/Pkg – Curator.
Tim Holtz Idea-Ology Collage Tiles 72/Pkg.
Dina Wakley MEdia Chipboard Shapes – Sprigs.
Tim Holtz Distress Mini Ink Pad – Gathered Twigs.
Tim Holtz Distress Mini Ink Kits – 6.
Tim Holtz Distress Mini Ink Pad – Brushed Corduroy.
Tim Holtz Distress Mini Ink Kits – 12.
Tim Holtz Distress Ink Pad – Ground Espresso.
Tim Holtz Distress Mini Ink Kits – 14.
Tonic Studios Nuvo Deluxe Adhesive 200N.
EK Success Small Precision Scissors 5.
Crafters Companion White Stamping Card 60/Pkg A4.
Simple Stories Washi Tape 5/Pkg – SV Weathered Garden.
Tim Holtz Distress Mica Sprays 29ml x 3/Pkg.
Tim Holtz Idea-Ology Tiny Attacher.
Dina Wakley MEdia Soft Gel Medium 29ml Tube.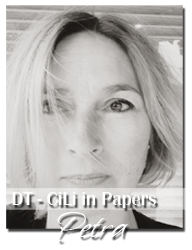 #scrapbooking #CiLiinPAPERS #MittKreativaKaos #PaperCraft #creative #inspiring #crafting  #Cilipysslatillsamans #LIVE #FaceBookLIVE #LIVEtutorial #Rnger_Ink #TimHoltz #Dylusions #DinaWakleyMedia  #ArtJournal #ArtJournaling #TravelJournal #Tag #Card #kort #MicaSpray #DistressMicaSpray #DistressInk #Stamping