Lagom till min FacebookLive i söndags förra veckan så släppte Din Wakley – min husgud – nya spännande saker och dessutom släppte Timpan sin nya Distressfärg Lumberjack Plaid.   Veckorna före hade det dessutom Simple Stories släppt sina nya kollektioner. Perfekt ju!
Jag gjorde en läskig sida i min Art Journal och en "snäll" tag.
Måste erkänna att jag fortsatte lite med några detaljer i min Artjournal efter min LIVE. Jag tyckte att det blev lite för mycket "bara" rött så jag satte dit lite bitar av utrivna boksidor och några bitar i turkost som jag gjort genom att använd Dinas akrylfärger på gel plate på tissuepapper. Jag känner att det lite mer harmoniskt så. Och lite harmoni kan man väl få ha trots att sidan skulle vara läskig.
Har du skapat något med den nya Distressfärgen Lumberjack Plaid eller Dina Wakleys nya saker?  Tagga oss med #ciliinpapers och #cilipysslatillsammans så att vi kan inspirera varandra <3 <3 <3
Om du missade min FacebookLIVE eller vill se den igen så hittar du den —> HÄR <—
**************
I have made an Art Journal spread with some of the new goodies fro Dina Wakley Media and the new Distress Oxide color Lumberjack Plaid from Tim Holtz, Ranger Ink.  I also made a tag with the Life Captured collection by Simple Stories. I recorded the process in a Facebook live. You can still see it  —> HERE <—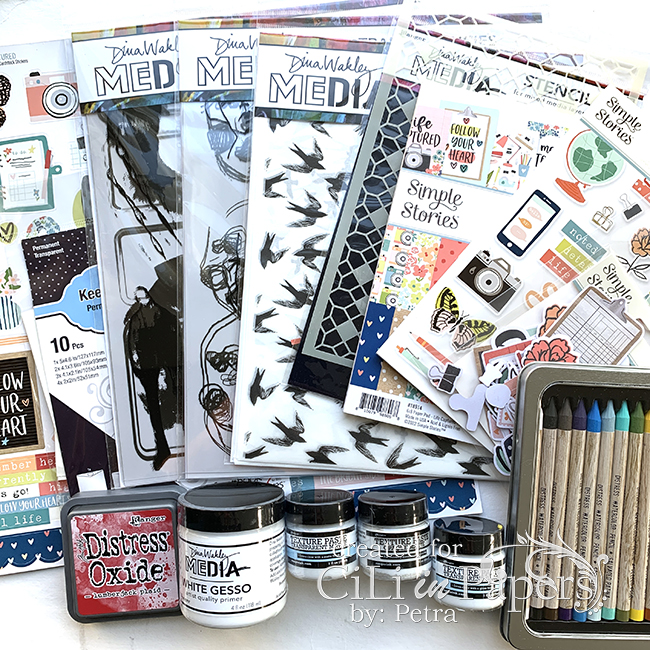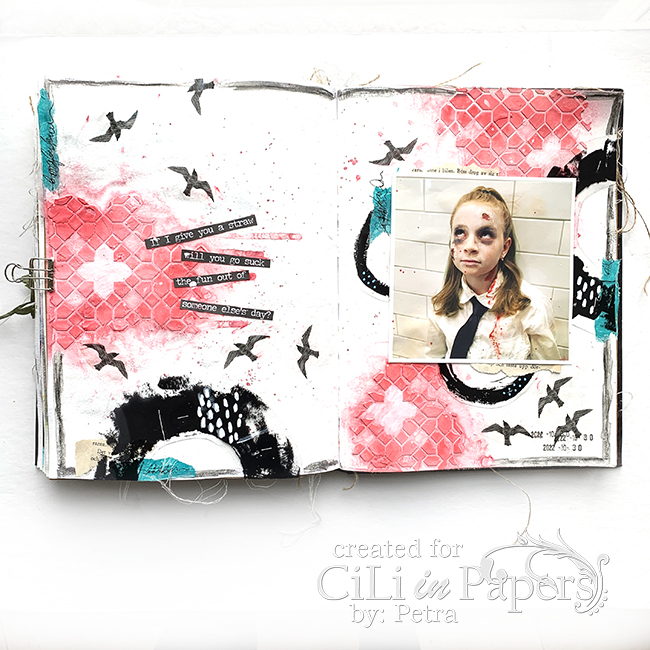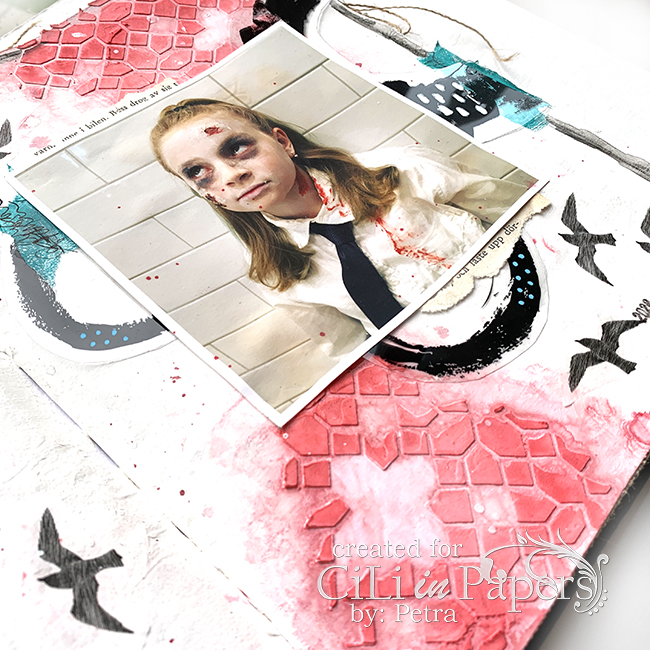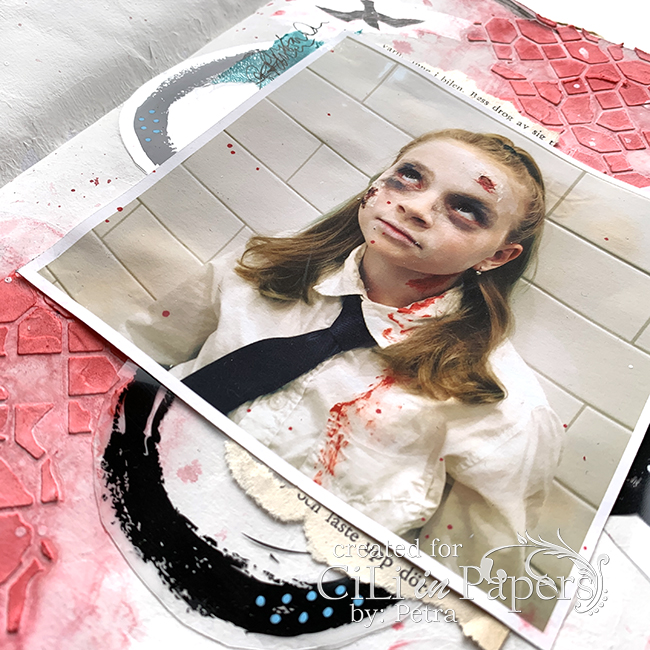 Material:
Dina Wakley Media Transparencies 8.5X10.75 2/Pkg – Frames & Figures…
Dina Wakley MEdia Tissue Pack 7.5X10 20/Pkg – Flying Things.
Dina Wakley MEdia Stencils 9X6 – Floor Pattern.
Tim Holtz Distress Oxide Ink Pad – Lumberjack Plaid.
Tim Holtz Idea-Ology Spiral Bound Sticker Book – Big Talk Snarky.
Tim Holtz Distress Archival Mini Ink Kit – Kit #3.
Dina Wakley MEdia Journal 8X10.
Dina Wakley MEdia Gesso 118ml Jar – White.
Tim Holtz Idea-Ology Tiny Attacher.
Ranger Texture Paste 29ml 3/Pkg – Texture, Matte, Gloss.
Ranger Multi Medium 113ml – Matte.
Simple Stories Sticker Sheet 12X12 – Life Captured.
Simple Stories Sticker Book 4X6 12/Pkg – Life Captured.
Simple Stories Double-Sided Paper Pad 6X8 – Life Captured.
Simple Stories Bits & Pieces Die-Cuts 60/Pkg – Life Captured.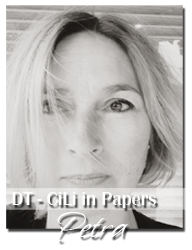 #scrapbooking #CiLiinPAPERS #MittKreativaKaos #PaperCraft #creative #inspiring #crafting  #Cilipysslatillsamans l #Ranger_Ink #TimHoltz #DinaWakleyMedia #SimpleStories #SSLifeCaptured #LumberjackPlaid #DistressOxide #ArtJournaling #Tag #FacebookLive #Videotutorial #ProcessVideo