Idag är det 12:e december och jag hoppas att ni hänger på CiLi in Papers på årets December Daily 2022. Varje dag fram till Julafton kommer vi i Designteamet att utmana och inspirera. Vi vill ju självklart att ni pysslar med och även i år kommer det utlovas fina priser till någon lycklig medpysslare. Alla Teman går att tolka fram till 24:e December och du behöver inte göra det på rätt dag bara du talar om vilken dag och tema du avser. Dagens tema är LUSSEKATT.
Glöm inte att tagga oss för att ha en chans att vinna med #cilipysslatillsammans och #decemberdailycili22
Vi ser verkligen fram emot att se allas bidrag.
Today is 12th of December and also this year CiLi in Papers have December Daily . Every day until 24 th of December we have a new theme for you to get inspired with and to make your own interpretation. If you want to make project for Cili in Papers December Daily you have until the 24 th of December to share it. If you want to have a chance to win a prize, don't forget to post your project and use #cilipysslatillsammans and #decemberdailycili22 Todays theme is LUSSEKATT which is something like the cat of Lucia or a very good cake with the same name.
Jag har valt att mer gå på temat katt än lussekatt, men så har jag ju också en saffransfärgad katt hemma. Jag gjorde mitt uppslag på en Facebook Live på CiLis Facebooksida i söndags. Jag använde ett uppslag i min Dylusions Dyalog insert som jag tidigare stämplat med gel print och en halv lök för att göra mönster. På den la jag fler lager med hjälp av stenciler från Tim Holtz tillsammans med akrylfärg från Dina Wakley Media, allt från Ranger Ink. För att göra bakgrunden komplett stämplade jag med två olika stämpar från Prima Markering Finnabair med Archial Ink. På fotot målade jag med akrylfärg, Detta har jag inte gjort tidigare men jag fick mersmak så det kommer ni att se igen. Jag har dekorerat med tags från Tim Holtz, utstansade katter från Sizzix (på Bazzill Basics Adhesive), mm. Sist av allt en text stämplad med en stämpel  från hÄnglar&Wings.
Blev du inspirerad? Glöm inte att dela och tagga oss med #ciliinpapers och #cilipysslatillsammans #decemberdailyCili22 så att vi kan inspirera varandra <3 <3 <3
Om du missade min FacebookLIVE eller vill se den igen så hittar du den —> HÄR <—
**************
I have made an Art Journal spread with some Stamps from Prima Marketing and hÄnglar&Wings. I also used acrylic paint from Dina Wakley Media to paint on my photo. Crazy cats from Sizzix on adhesive cardstock from Bazzill Basics and tags and stencils from Tim Holtz are also used on the page. I recorded the process in a Facebook live. You can still see it  —> HERE <—
**************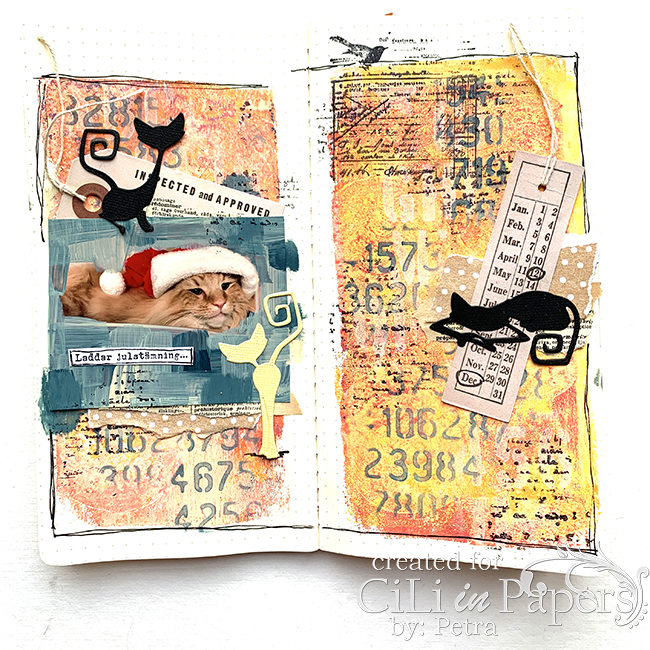 Material:
Dylusions Dyalog Insert Book – Dots #2.
Bazzill Mono Adhesive Cardstock 12X12 – Lemonade UTGÅENDE.
Bazzill Self Adhesive Foam Sheet 12X12 – Black.
Tim Holtz Sizzix Thinlits Dies – Mischievous.
Dina Wakley Media Akrylfärger   
Prima Finnabair Clear Stamp 2.5X2.5 – Secret Notes. 
Tim Holtz Idea-Ology 25/Pkg – Salvaged Tags. 
Ranger Gel Plate Assortment 3/Pkg. 
Crafters Companion Spectrum Noir Blending Tool 3pcs. 
hÄnglar & Wings Clear Stamps – Snorkigt Juletid. 
Dina Wakley MEdia Soft Gel Medium 29ml Tube. 
Sizzix Big Shot Foldaway Machine.
Simple Stories Double-Sided Paper Pad 6X8 – Life Captured. 
Dina Wakley MEdia Fude Ball 1.5 Pen – Black. 
Sizzix Making Tool Scissors – Small.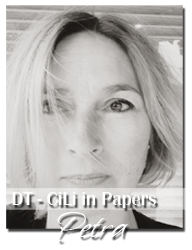 #scrapbooking #CiLiinPAPERS #MittKreativaKaos #PaperCraft #creative #inspiring #crafting #Ranger_ink  #Cilipysslatillsamans #TimHoltz #LIVE #FaceBookLIVE #LIVEtutorial #Slimline  #Sizzix #ArtJournal #ArtJournaling #TonicStudios #hAnglarWings #DecemberDailyCiLi22    #PrimaMarketing #Dylusions #DinaWakleyMedia #BazzillBasics