Jag har lekt med en embossing folder från Sizziz, Foundation /mixed media Background paper från Vicki Boutin, stämplar från Tim Holtz och mycket mer. En del av det jag visar skapade jag på en Live på CiLi in Papers Facebook och en del har jag gjort när jag värmde upp inför Liven.
Vid min Live gjorde jag några gel prints på baksidan av Vicki Boutins Mixed Media Background paper. Då blir det som att jobba direkt på Vickis Foundation paper, ett tjockt papper som tål mycket färg, medium och vatten. Jag hade vanligt tunt kopieringspapper bredvid som jag använde för att göra rent min brayer. Det skräppappret har jag sedan använt för att dekorera mina tags och ATC.
Jag skar sedan ut en tag från ett av mina gelprints. Jag rev pappersbitar från Prima Maketings Nature Lover och stämplade med stämplar från Tim Holtz. Slutligen dekorerade jag med cirklar från mitt skräppapper en blomma stämplade bokpapper och text från Nature Lover.
På de små tagsen har jag använt två olika serier från Simple Stories, Heart Eyes och Life Captured.
Mina ATC-kort är gjorda med svart Cardstock från Bazzill som jag vätat lite på baksidan med våtservetter innan jag embossade dem i en embossingfolder från Sizzix. Jag har sedan gnidit på Ancient Silver Wax från Finnabair. som dekoration har jag valt att använda en del av skräppappret, en stämplad blomma och ett porträtt från Tim Holtz Collage Tiles.
På de andra ATC-korten har jag valt samma bakgrund men dekorerat med utstansat med Impresslits och paperdolls.
Det här var kul så jag kommer absolut att fortsätta leka med detta.
Om du missade min FacebookLIVE eller vill se den igen så hittar du den —> HÄR <—.
Blev du inspirerad?  Tagga oss med #ciliinpapers och #cilipysslatillsammans så att vi kan inspirera varandra <3 <3 <3
**************
I have made Artist Trading Cards (ATC) and a Tag.  I recorded the process in a Facebook live. You can still see it  —> HERE <—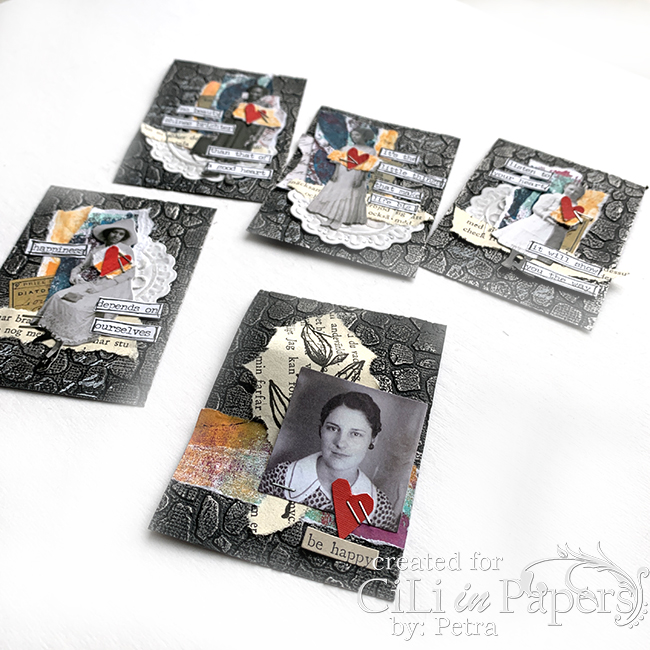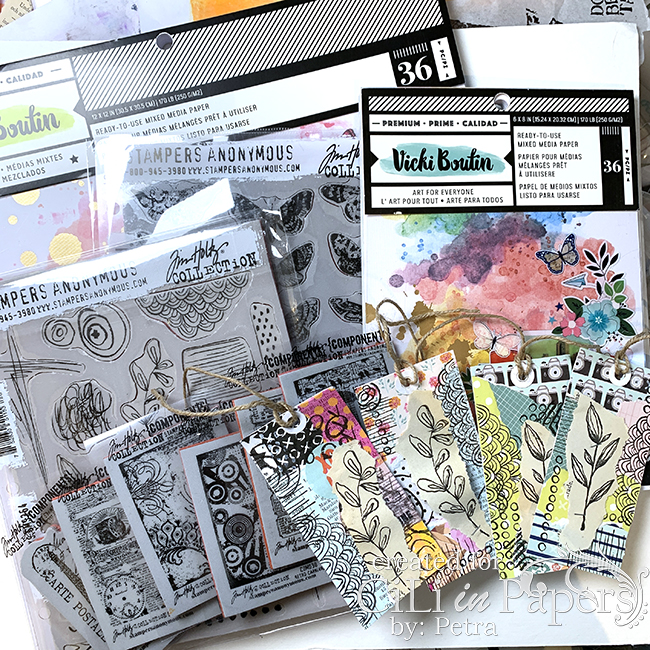 Material:
Tim Holtz Cling Stamps 7X8.5 – Mini Media Marks CMS364.
Tim Holtz Cling Stamps 7X8.5 – Media Marks #2 CMS363.
Tim Holtz Cling Stamps 7X8.5 – Media Marks #1 CMS362.
Vicki Boutin Mixed Media Backgrounds Paper .
Prima Double-Sided Paper Pad 12X12 24/Pkg – Nature Lover.
Simple Stories Heart Eyes.
Simple Stories Life Captured.
Tim Holtz Idea-Ology Tiny Attacher.
Tim Holtz Sizzix 3-D Texture Fades Embossing Folder – Mini Cobblestone.
Tonic Studios Nuvo Deluxe Adhesive 120ml 201N.
Tonic Studios Nuvo Deluxe Adhesive Precision Tips 207N.
Tim Holtz Idea-Ology Collage Tiles 72/Pkg.
Dina Wakley Acrylic Paint   
Tim Holtz Distress Brayer 3 5/16inch – Medium.
Prima Finnabair Art Basics Heavy Gesso 250ml – White.
VersaFine Ink Pad Onyx Black.
Bazzill Cardstock 12X12 25/Pkg Orange Peel – Black.
Prima Finnabair Wax Paste Metallique 20ml – Old Silver.
Dina Wakley MEdia Fude Ball 1.5 Pen – Black.
Tonic Studios Funky Stick 8g 424E.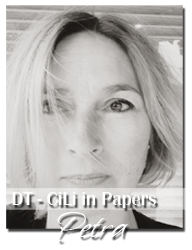 #scrapbooking #CiLiinPAPERS #MittKreativaKaos #PaperCraft #creative #inspiring #crafting #Ranger_ink  #Cilipysslatillsamans #TimHoltz  #Tag #Gifts  #Nuvo #SSHeartEyes #SimpleStories #SSLifeCaptured #FacebookLive #LiveTutorial #Videotutorial #Processvideo #DinaWakleyMedia #VickiBoutin #PrimaMarketing #Finnabair #TonicStudios #TonicStudiosUK #Sizzix