Hej!
Idag är det den 8:e december och Cili in Papers December Daily fortsätter.
Varje dag fram till julafton kommer vi i designteamet att utmana och inspirera er. Vi vill gärna att ni pysslar tillsammans med oss och även i år kommer det utlovas fina priser till någon lycklig medpysslare. Alla teman går att tolka fram till 24:e december och du behöver inte göra det på rätt dag bara du talar om vilken dag och tema du avser.
Dagens tema är GULD och eller SILVER
Glöm inte att tagga oss på Instagram för att ha en chans att vinna med: #cilipysslatillsammans
#decemberdailycili22
Vi ser verkligen fram emot att se allas bidrag.
Today is 8th of December and also this year CiLi in Papers have December Daily . Every day until 24 th of December we have a new theme for you to get inspired with and to make your own interpretation. If you want to make project for Cili in Papers December Daily you have until the 24 th of December to share it. If you want to have a chance to win a prize, don't forget to post your project and use #cilipysslatillsammans and #decemberdailycili22
Todays theme is GOLD or SILVER or use both.
Jag har embossat  papper med Timpans embossingfolder Elegant. Klätt in en liten ask med pappret. Jag stansade även ut en tag av samma embossade papper. Sedan gned jag in Foundry Wax och värmde på med embossingfönen så kom det fram en härlig guldig lyster.
På detta lite soft matte gel från Prima och Finnabair och strösslade på guld glitter för att förstärka effekten av guld. Detta är så praktiskt att stoppa en lite gåva till nån man tycker nu i jul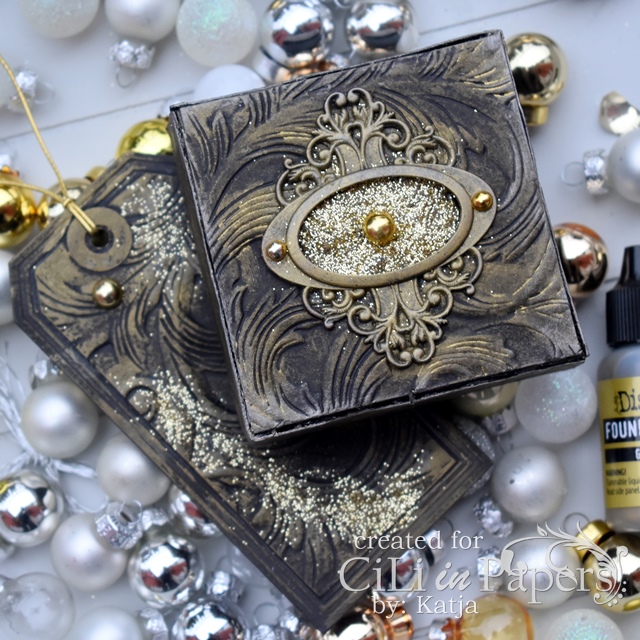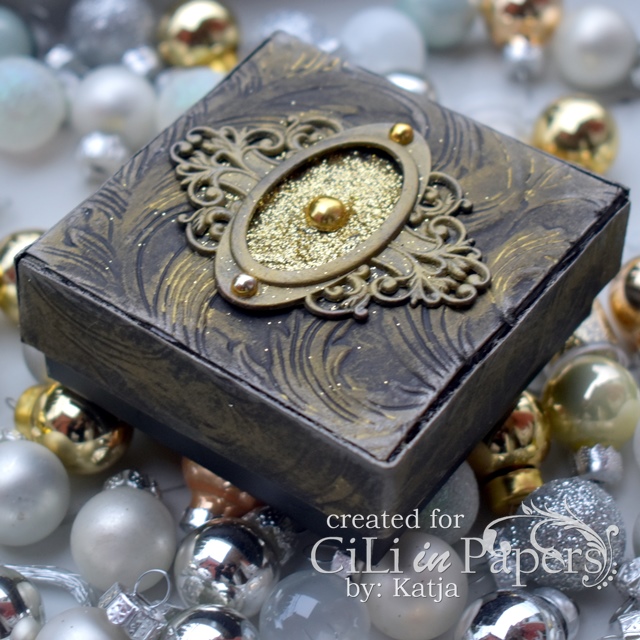 Materiallista:
Tim Holtz Sizzix 3-D Texture Fades Embossing Folder – Elegant
Tim Holtz Distress Foundry Wax Kits – Kit 1
Tim Holtz Sizzix Thinlits Dies – Framed Tag
Tim Holtz Idea-Ology Droplets 192/Pkg – Metallic TH94289
Finnabair Art Ingredients Glitter Set – Autumn
Prima Finnabair Art Basics Soft Matte Gel 250ml – Transparent Matte
Prima Finnabair Art Basics Heavy Body Gel 250ml
xoxo Katja